The Smart-e 4K-5W155 is a high resolution 4K UHD KVM extender for USB 2.0 together with RS232 pass-through and bi-directional IR control capable of transmitting over 100m of structured cabling or 60m of fibre optic cable
Key Features
USB 2.0 keyboard video & mouser extender
UHD 2K and 4K, 1080p resolutions
HDCP 1.4 compliant, HDMI V1.4
Supports 1920×1200@60Hz
100m Cat 6 extension
60km single mode fibre extension
4K@60Hz colour space 4:2:0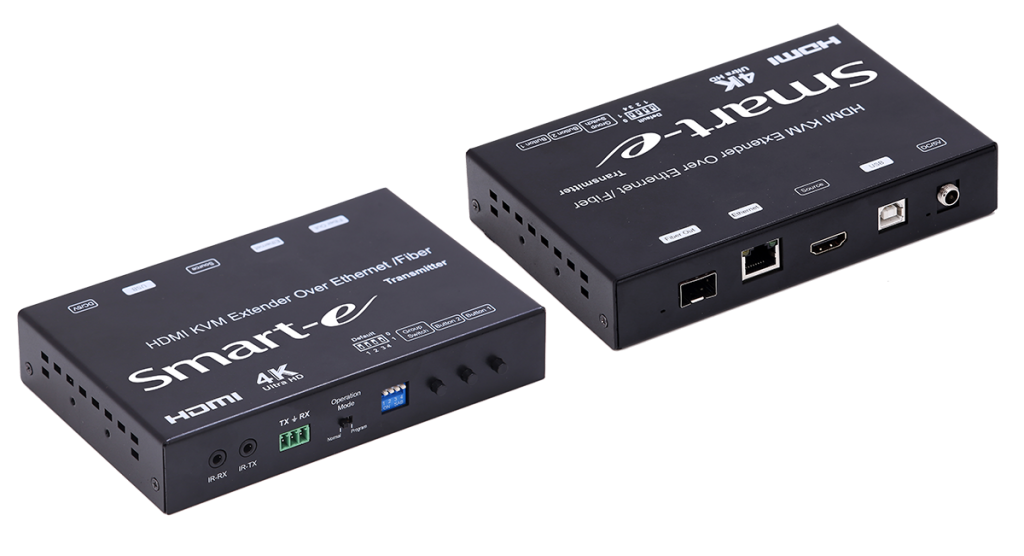 The Smart-e 4K-5W155 is a high resolution 4K UHD KVM extender for USB 2.0 together with RS232 pass-through and bi-directional IR control capable of transmitting over 100m of structured cabling or 60km of fibre optic cable
The 4K-5W155 is a combination of a transmit/receiver pair capable of transmitting HDMI signals up to 4K UHD resolutions over 100m of Cat 6 cable or 60km of fibre.
The 4K HDMI & USB over IP Extender is a solution for audio, video and USB signal extension via Local Area Network (LAN). It can be used as audio, video and KVM extender over IP and applied to point to point, point to multi-point, multi-point to multi-point and screen wall broadcast system controlled by USB, RS232, IR and configured the 4K HDMI & USB over IP Extender by web browser. An easy installation system built up with Giga Ethernet switch which has IGMP function and CATx cable for extension or broadcast.
Features
USB 2.0 keyboard video & mouser extender
UHD 2K and 4K, 1080p resolutions
HDCP 1.4 compliant, HDMI V1.4
Supports 1920×1200@60Hz
100m Cat6 extension
60km single mode fibre extension
4K@60Hz colour space 4:2:0
RS232 full duplex and pass-through
Dolby TrueHD DTS-HD Master Audio
Total 10.2 Gbits/s data rate
Point to point Unicast & Multicast
Lockable DC connector
EDID management
Video Wall feature – 8×16
Downloads
Click to download or display it in a new browser window.
Large files files may take a few minutes to display on screen.