The SDSC-1050 is a 18Gbps HDMI extender for medium range cable applications capable of reaching lengths of up to 50m, a professional product ideal for Commercial, Education and Residential use
Key Features
50m extension
HDMI 2.0 4K@60Hz
4:4:4, 18G, HDR10, Dolby Vision
HDCP 2.2/1.3 compliant
Looping inputs for transmitter
Reverse IR pass through
Compact housing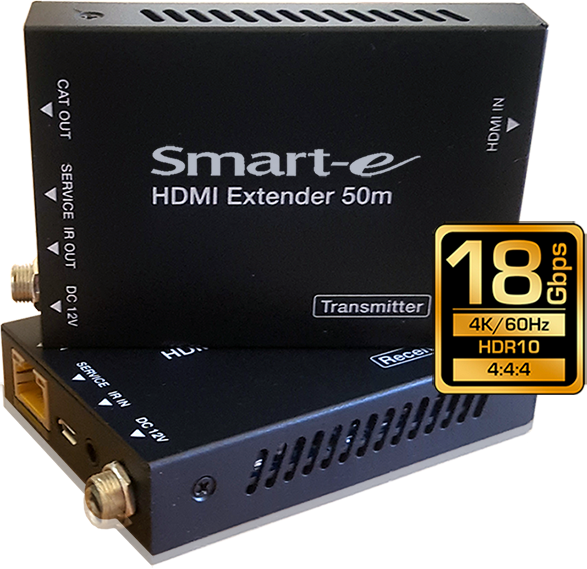 The SDSC-1050 is a flexible and cost effective transmitter and receiver pair solution for extending 4K 18Gbps HDMI resolution video together with Infrared signals and POC (remote power over cable). The pair of units are supplied as a separate compact transmitter (SDSC-TX1050) together with its complementary compact receiver (SDSC-RX1050).
The SDSC-TX1050 transmitter has a looping HDMI input allowing multiple transmitters to be cascaded together or add an extra remote display to an existing Digital Signage installation. The local HDMI loop out also provides a convenient method of monitoring the image being shown at the remote end.
The SDSC-RX1050 receiver unit connects to the wall plate via a single Cat 6/6a cable at a distance of up to 50m. The receiver presents the video out on a single HDMI connector and allows a 12V power supply to be connected which also powers the transmitter wall plate through the Cat cable.
Owing to it compact size and low cost the SDSC-1050 is ideal for Schools and Further Education applications but can also be used for any meeting/board/huddle room requirements.
Features
HDMI 2.0 4K@60Hz
4:4:4, 18G, HDR10, Dolby Vision
HDCP 2.2/1.3 compliant
Looping inputs for transmitter
Reverse IR pass through
50m @1080p & 4K
Single CAT 6/6A STP/FTP
CEC compliant
Secure DC connection
POC (remote powering receivers)
Slim profile 18mm
Downloads
Click to download or display it in a new browser window.
Large files files may take a few minutes to display on screen.
| Description | Type | Size |
| --- | --- | --- |
| Datasheet | PDF File | 307KB |
| | | |