4K resolution UDB2 KVM extender using HDBaseT 2.0 over a single CAT 6/6A cable with RS232, IR, SPDif + POC.
Key Features
USB 2.0 extension
HDMI resolutions 4K, 2K & 1080p
HDCP 2.2 compatible
Full duplex RS232 passthrough
Bi-directional IR pass through
100BaseT Ethernet pass through
High Dynamic Range (HDR) with BT.7090 colour space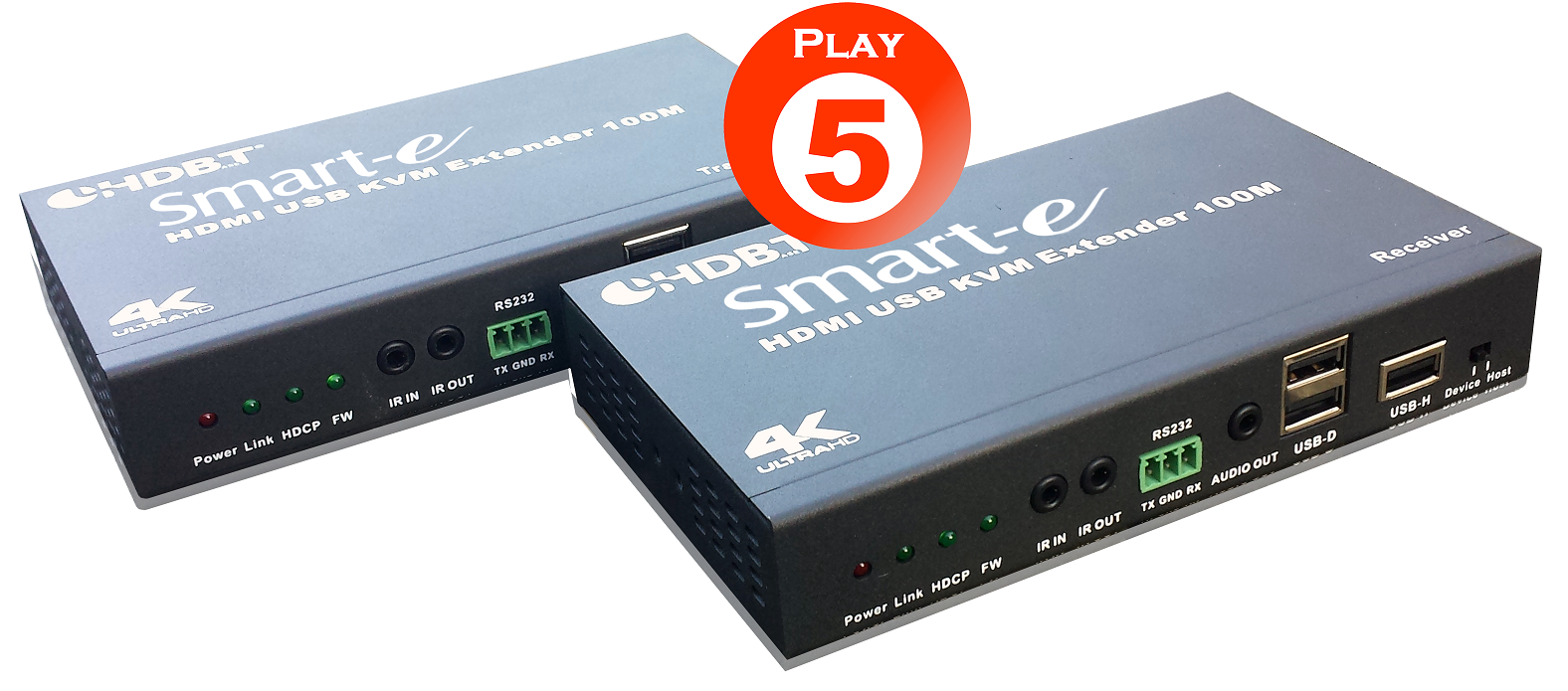 The 4K-975-USB is a flexible and cost effective KVM extender for HDMI, USB 2.0, bi-directional IR, full duplex RS232  together with 100BaseT Ethernet and POE. Consisting of a transmitter/receiver pair, both units are compact and come with mounting brackets. By incorporating the full HDBaseT 2.0 technology 4K UHD HDMI signals can be transmitted up to 100m.
The 4K-975-USB is a HDBaseT KVM extender pair capable of distributing HDMI signals up to 4K UHD resolutions to 100m of Cat 6/6A cable. By implementing the complete 5-Play of the HDBaseT 2.0 specification the extender pairs also provides the pass through of wide band bi-directional InfraRed signals, full duplex RS232 up to 115 Kbaud and 100BaseT Ethernet. USB 2.0 extension is achieved by harnessing the internal 100BaseT Ethernet link within the HDBaseT protocol. Each unit is powered via a 24V PSU which can also power the other remote device through the same cable.
Features
4K @60Hz 4:2:0 colour space, 2K
4K @30Hz 4:4:4 colour space, 1080p
USB 2.0 extension with Hub
Near Zero latency
Uncompressed Video transmission
Outputs reach up to 100m
HDCP/EDID/DDC transparent link
HDCP 2.2 & 1.4 compatible
Full duplex RS232 passthrough
Bi-directional IR pass through
100BaseT Ethernet pass through
HDMI 2.0 to 4K 60Hz 4:2:0 8 bit colour
Bi-directional POC (Power Over Cable)
Uses HDBaseT 2.0 technology
Bi-directional TOSLINK
Compact TX/RX unit
Easy to install, inexpensive CAT 6/6A cable
Secure lockable DC connector
LPCM 7.1 audio, Dolby Atmos®, Dolby® TrueHD, DTS:X™, and DTS-HD Master Audio™ pass-through
Downloads
Click to download or display it in a new browser window.
Large files files may take a few minutes to display on screen.
| Description | Type | Size |
| --- | --- | --- |
| Datasheet | PDF File | 1000 KB |
SM-EYEN

Narrow Band Infra-Red receiver eye for 38 KHz modulated signal. Good noise rejection, range 8-10 metres.
SM-LED

Infra-Red emitter to remote control of source devices. This unit is compatible with all Smart-e products.