100m 4K compatible 4 port HDBaseT splitter, includes RS232 passthrough and EDID management. Resolutions 4k,2k, 1080p@60Hz, 3D fully HDCP 2.2 compliant
Key Features
RS232 pass-through
Ultra HD 2K and 4K, 1080p resolutions
HDCP 2.2 compliant, HDMI V1.4
Supports 1920×1200 @ 60 Hz
1– 4 HDBaseT splitter
100m CAT 6/6A extension—HDBaseT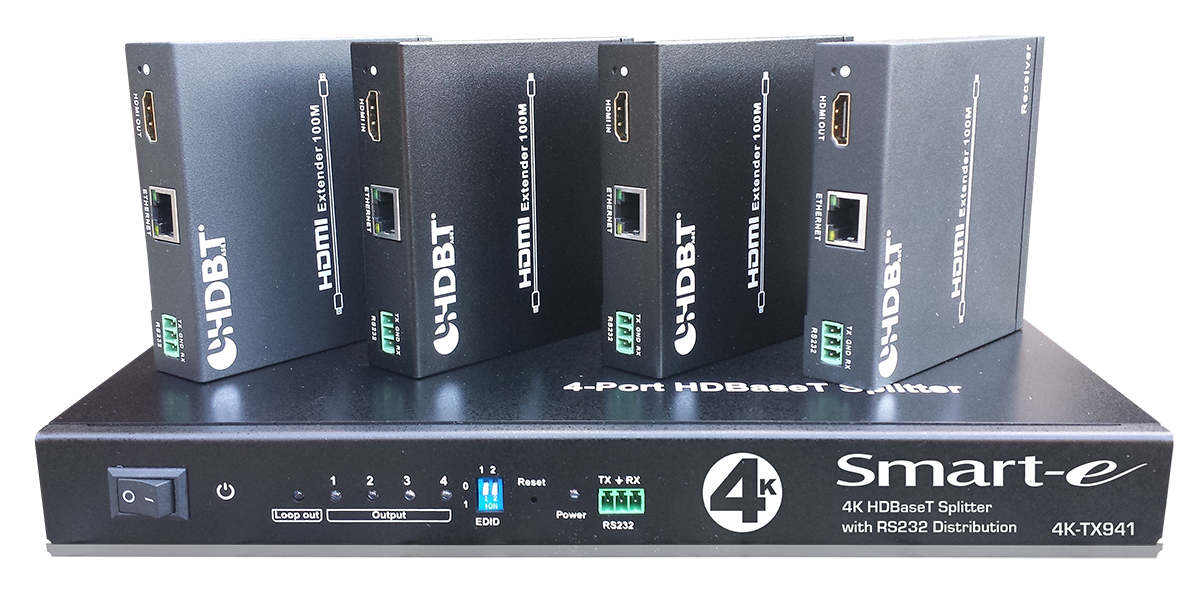 The Smart-e 4K-TX941 is a 1 in and 4 out HDBaseT splitter with RS232 pass-through capable of transmitting 4K UHD signal over 100m of structured cabling (using the appropriate receiver)
The 4K-TX941 is a self contained HDBaseT splitter capable of transmitting HDMI signals up to 4K UHD resolutions over 100m of CAT 6/6A cable.
A single HDMI input can be connected to the rear of the unit where it gets split internally and then fed to 4 separate HDBaseT outputs. Each receiver (4K-RX940) decodes the HDBaseT protocol back to HDMI and RS232. Power is provided from the transmitter through the same Cat cable so there is no need for bulky PSUs at the display end. A secure lockable DC connector on the splitter provides a reliable power connection.
Each HDBaseT connection also allows for RS232 signals to be received back from the receiver enabling remote control of the source device. Fully HDCP 2.2 compliant this 4K-TX941 compact unit is ideal for digital signage use in Education, Entertainment and Retail Market.
Features
Ultra HD 2K and 4K, 1080p resolutions
HDCP 2.2 compliant, HDMI V1.4
Supports 1920×1200 @ 60 Hz
1– 4 HDBaseT splitter
100m CAT 6/6A extension—HDBaseT
4K@60Hz colour space 4:2:0
Looping HDMI input
RS232 pass-through
Dolby TrueHD, DTS-HD Master Audio
Total 10.2 Gbits/s data rate
Remote powers the receivers (POC)
Lockable DC connector
EDID management
Ethernet pass-through (output 1)
Downloads
Click to download or display it in a new browser window.
Large files files may take a few minutes to display on screen.
| Description | Type | Size |
| --- | --- | --- |
| Datasheet | PDF File | 796 KB |
SM-EYEN

Narrow Band Infra-Red receiver eye for 38 KHz modulated signal. Good noise rejection, range 8-10 metres.
SM-LED

Infra-Red emitter to remote control of source devices. This unit is compatible with all Smart-e products.
Receivers
4K-RX940 (100m)
Connector Interface
RJ45
Protocol
Full HDBaseT (100m)
EDID Support
Pass-through
HDCP Support
Pass-through
Resolution (Max)
4K 4096×2160 @ 30Hz
1920×1200 @ 60Hz
Audio
Digital Embedded
Max Input Cable Length
Up to 100m
Power
12V POC
Dimensions
70 x 65 x 25 (mm)