The SDSC-925 is a 18Gbps HDMI extender for extra long range cable applications capable of reaching lengths of up to 150m, a professional product ideal for Commercial, Education and Residential use
Key Features
150m extension
HDBaseT technology
HDMI 2.0 4K@60Hz
4:4:4, 18G, HDR10, Dolby Vision
HDCP 2.2/1.3 compliant
Looping inputs for transmitter
Full duplex RS232 pass through
Bi-directional IR pass through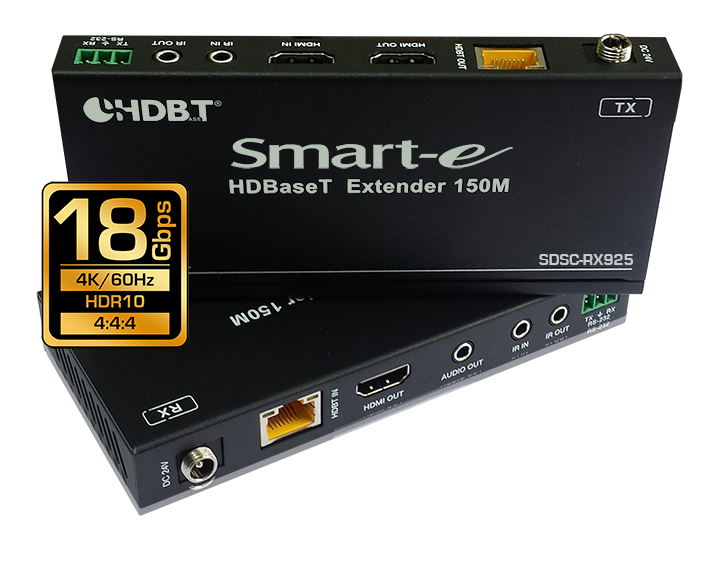 The 444K-925 is a flexible and cost effective HDBaseT pair solution for extending HDMI, bi-directional IR, full duplex RS232 together with POC (remote power over cable). The unit is very compact and comes with the IR accessories. By incorporating an extended HDBaseT technology, 4K UHD HDMI signals can be transmitted up to 120m and 1080p @60Hz video up to 150m using CAT 6/6A STP/FTP. The 444K-925 is a pair of TX/RX HDBaseT extenders capable of transmitting UHD HDMI signals up to 4K UHD resolutions. Implementing a special extended version of the HDBaseT specification, the extender also provides the pass through of wide band bi-directional InfraRed signals and full duplex RS232 up to 115Kbaud. Whilst POC power (24V) can be sent by either the TX or RX through the Cat 6 cable to provide power to the remote end. All that is required is a single Cat 6 cable connection to provide all these features.
The 444K-TX925 transmitter comes with looping HDMI inputs providing a convenient method of connecting a local monitor or cascading to another transmitter. Whilst the 444K-RX925 receiver has an analogue stereo audio output replicating the de-embedded audio from the HDMI signal.
Both units are very compact having a height of only 18mm helping hide the units in confined spaces. Each box also has integral mounting feet for desktop use and the ability to fix right-angled brackets allowing ease of installation.
Note: Because of the Digital Stream Compression system the protocol might not be compatible with direct HDBaseT inputs on displays and projectors.
Features
HDBaseT technology
HDMI 2.0 4K@60Hz
4:4:4, 18G, HDR10, Dolby Vision
HDCP 2.2/1.3 compliant
Looping inputs for transmitter
Full duplex RS232 pass through
Bi-directional IR pass through
150m @1080p, 120m @4K
Single CAT 6/6A STP/FTP
CEC compliant
Analogue audio out on receiver
Secure DC connection
POC (remote powering receivers)
Slim profile 18mm
Downloads
Click to download or display it in a new browser window.
Large files files may take a few minutes to display on screen.
| Description | Type | Size |
| --- | --- | --- |
| Datasheet | PDF File | 307KB |
| | | |