The 444K-912 is a flexible and comprehensive professional HDMI Wall plate extender with CAT 6 distribution system for Commercial, Education and Residential use
Key Features
Double gang Wall plate transmitter
HDMI 2.0 4K@60Hz
4:4:4, 18G, HDR10, Dolby Vision
HDCP/EDID/DDC transparent link
RGBHV resolutions up to UXGA
Priority switching HDMI & VGA
Output reach up to 70m
Other Links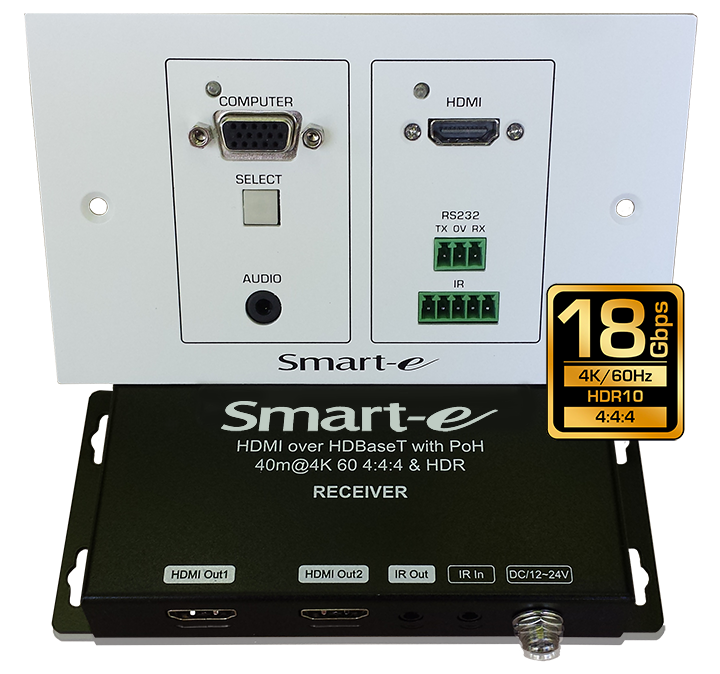 The 444K-912 is a flexible and cost-effective wall plate transmitter and compact receiver solution for extending HDMI, RGBHV, bi-directional IR, full duplex RS232 together and POC (remote power over cable). The pair of units are supplied as a convenient UK size double gang transmitter wall/floor plate (444K-TX912-WP) together with its complementary compact receiver (444K-RX750). The 444K-912 comes with all the IR accessories and by incorporating the full HDBaseT technology 4K UHD HDMI signals can be transmitted up to 70m away.
The 444K-TX912-WP transmitter wall plate allows the connection of both HDMI and RGBHV formats. Selection between both signals is controlled by a priority switch (last connected wins) or a manual button, status of which is shown via LED indicators above the active input. The RGBHV signal is digitised and converted to HDMI with the embedded stereo audio connected via the mini-jack input.
The 444K-912 pair also allows the pass through of wide band bi-directional InfraRed signals and full duplex RS232 up to 115Kbaud. The wall plate is powered through the Cat6 cable from the receiver with a 24V PSU. Dual mirrored HDMI outputs on the receiver provide a convenient solution to back to back displays commonly found in Digital Signage applications.
Features
Double gang Wall plate transmitter
Uses easy to install, inexpensive cable
Single CAT 6/6A STP
Outputs reach up to 70m
Supports HDMI 2.0 4K@60Hz
HDCP/EDID/DDC transparent link
HDMI resolutions 4:4:4, 18G, HDR10
HDCP 2.2/1.3 compliant
RGBHV resolutions up to UXGA
Priority switching HDMI & VGA
Dual mirrored outputs on receiver
Supplies remote power to wall plate
Bi-directional RS232/IR pass through
Compact receiver unit
Secure DC connection
Plug and play
Downloads
Click to download or display it in a new browser window.
Large files files may take a few minutes to display on screen.
| Description | Type | Size |
| --- | --- | --- |
| Datasheet | PDF File | 807 KB |
| | | |